Purpose: Identify tests for which expedited processing of time-sensitive specimens (refrigerated specimens with short stability) is available.
IMPORTANT: This process only applies to refrigerated specimens with a 48-hour stability. Placing time-sensitive stickers on a room temperature (ambient) transport bag may result in compromised specimens.
Access self-guided training for processing time-sensitive specimens.
For any questions, or to begin using ARUP's time-sensitive process, please contact Client Relations Training at clienttraining@aruplab.com.
Shipping Guide for Time-Sensitive Specimens with a Stability of 48 hours
In our ARUP Test Directory, 'Time Sensitive' refers to specimens that are refrigerated and must be received at ARUP within 48 hours from collection. A test that is considered Time Sensitive has a stopwatch icon

located with the test information in the ARUP Test Directory.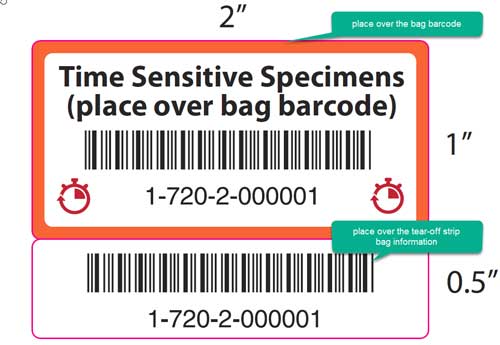 IMPORTANT: This new guide only applies to refrigerated specimens with a 48-hour stability.
Fill out required information on bag.
Place time-sensitive label over the bag's barcode.
Place smaller barcode label on bag's tear-off portion for your records.
Place rack, containing time-sensitive specimens only, into refrigerated bag.
Insert time-sensitive specific packing list in the bag sleeve.
For orders placed through an Interface, please stamp your packing list with "Time Sensitive" (eSupply: Item # 56785).
Couriers will pick up all bags at once, package, and ship specimens.
NOTE: Order time sensitive labels through eSupply: Item # 56529.
Download this shipping guide here.
Direct comments/questions/issues about this report to the Support Services - Central IT group.
| Mnemonic | Test Number | Test Name |
| --- | --- | --- |